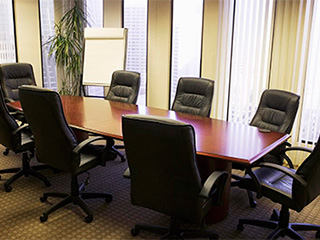 For both home and business use, one of the best window coverings you can choose is a vertical blind. These window treatments are exceptionally versatile, providing you with an easy way to keep out dazzling sunlight and prying eyes. Choose from a vast selection of different styles, materials, and colors. Our range of different designs makes it incredibly easy to find vertical blinds that are smart and professional, or warm and cozy-looking. Read further to see how vertical blinds could be perfect for you.
Our Huge Selection Of Vertical Blind Styles
You'll be amazed at how many different options you have when you're choosing your new vertical blinds. First of all, you can decide on many different materials. You can select a fabric such as blackout or sheer, which allow totally different levels of light through. You can also choose something different, such as wooden or vinyl vertical blinds. This means no matter what your tastes are, you're guaranteed to find something that suits your property.
Vertical Blinds For Your Sliding Screen Doors
Covering a large sliding door can be tricky. However, when you choose custom vertical blinds from our extensive range, you'll have plenty of ways to cover them. Because vertical blinds are very easy to adjust to any position, they're ideal for keeping out unwanted sunlight that creeps through your screen doors. They're also an excellent addition for screen doors because they provide much higher levels of privacy. When you want to be sure passers-by can't see into your property, simply draw your vertical blinds across, and you'll be guaranteed seclusion. Talk to our local Irvine team today to find out more about our extensive selection.
Patio Door Blinds
Since glass screen doors tend to be longer than the average window, they need different types of blinds to cover. Well, that's one situation where vertical blinds to a fantastic job. They work far better to block sunlight with patio doors than other window treatment options. You can get the vertical blinds made from wood or faux wood, same as different types of blinds. You've also got aluminum, vinyl, and PVC as options.
Cover Office Windows With Vertical Blinds
When you have an important meeting, you want to know that your employees are really focusing. You don't want them squinting in dazzling sunlight, or trying to deal with a sunlight glare-induced headache. That means investing in the right vertical blinds for your office windows. Choose a material that looks modern and smart, and yet still provides the levels of light control you need. With our selection of different vane widths, as well as many different materials, you can be sure your office windows will be properly covered. Consult our Irvine-based specialists today for in-depth guidance on the right vertical blinds for your business.
Find The Right Vertical Blinds Today
Don't compromise on comfort and privacy at your property. Your home or business deserves the best, and that's what Irvine Blinds & Shades provides. To schedule your free, no-obligation appointment, get in touch with us today.