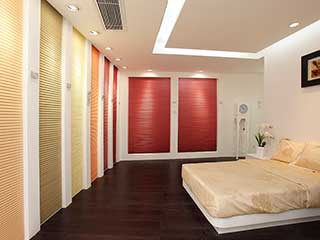 Getting cellular shades is your best available choice if you want to protect your house from sunlight, heat, and cold. A third of the unwanted heat gain and loss in a building happens through the windowpanes, and these treatments are specifically designed to minimize it.
An Insulating Effect
Any shade or blind will help minimize the heat diffusion through a window, but cellular shades are made for this purpose in particular. Instead of fabric or panels, these shades are made up of many hollow tubes hanging along a pair of tapes. Heating and cooling are slowed down whenever the heat needs to move between solid materials and air, so the alternating tube walls and hollow centers slow thermal conductivity to a crawl. Multilayer or "honeycomb" shades include two or three layers of these miniature tubes, and provide the best insulation.
Structures And Mounting
Despite their more complicated design, a sheet of cellular tubes functions can be handled in more or less the same ways as the fabrics, panels, or woods used in others types of window coverings. Cellular shades can have an ambidirectional compression system, a roller-shade like spindle mounted above the window, or a system of strings to pull it up into Roman style folds. With regards to the latter, it works best if you either have only one layer of tubes, or if you have a honeycomb of much thinner ones. Cellular shades can be installed with hand cords or remote controlled motors like most of our other products.
Making Them Attractive
Even without fancy mounting systems, your choice of colors can make the difference between a utilitarian wall of pipes and an aesthetic asset. The size and color of the tubes are open for customization, and in addition cellular shades can also be covered with a thin, decorative sheet of fabric on the inside, outside, or both, letting you create a classic style look if you so desire.
Get Your Honeycomb Here
Our shades are just a phone call away, and can be delivered to your home or business address any weekday by our professional installation team. Call us today and get your cellular shades ASAP!