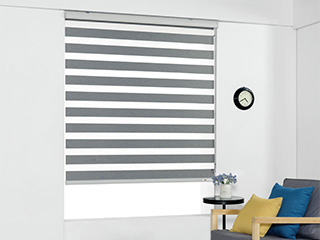 Layered shades can be made out of different materials, or with different densities of the same material, to give them different degrees of reflectiveness and tint. By combining different types of solar shading in consecutive bands, you can make a window treatment that further breaks up the glare without completely getting rid of the light, and also looks more interesting.
A Radiant Dapple
With their alternating layers of more and less opaque fabric, layered shades can provide the same UV protection to prevent sunburn and furniture damage as the standard solar shade, but the visual effect is far more appealing. In addition to making the window itself more decorated than a simple, bare shade, the zebra stripes-like pattern of filtered light will decorate the entire rest of the room with a naturalistic ambiance.
Adjusting The Glare
It can be a tricky balance letting in enough sunlight to read or complete intricate projects without also letting yourself be blinded by glare. Layered shades solve that problem by breaking the sunlight up into strips of different intensities, so that your eyes can be protected from the worst of the sunlight while enough brighter stripes fall on your work to clearly illuminate it. Since there are two layered sheets, you can adjust the bars of each to block more or less sunlight at will.
Motorized Options Available
Layered shades are thin, usually in-frame, window treatments that open with just a slightly more complex roller or sliding system. As such, they are easy to motorize, and in fact are some of the best types of shades to put on a timer or sensor so they can deploy or retract just at the right times to protect against times of day with harsher sunlight and admit the gentler morning and evening rays. Like any automated window feature, motorized layered shades also maximize convenience and minimize the risk to pets and children.
Consult Layered Shades Experts Near You
Irvine Blinds & Shades can have layered shades custom made just for you, and delivered to your address by our professional installation team. Call now to schedule a free consultation and learn about the different design and motorization options available to you.