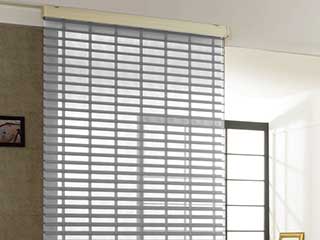 A mix between the more traditional blind and shade design, these hybrids give you the best of both worlds without getting any more complicated to use. Our custom made sheer shades are the best in the city, and you can have them delivered right at your door and professionally installed.
Introduction To Sheer Shades
Sheer shades consist of a set of rigid, rotatable slats with a "skin" of thin fabric or similar material, stretched over and connected to them. The entire screen can have its slats tilted to let in more or less filtered sunlight through the cloth layer, or be drawn (vertically or horizontally, depending on design) to expose the glass behind it.
The Benefits Of Choosing Them
This style is an answer to the old question of whether to use blinds or shades, as it is essentially both of them rolled into one. The rotating panels (blinds) let you choose anything along a gradient of light levels to allow in, and to take advantage of the sun's current position in the sky. The thin and flexible layer (shade) protects the room from prying eyes, softens the sunlight, and preserves a gentler aesthetic, whatever orientation the panels are in.
Blind And Shade Customization
Any type of thin, usually lightly colored, material can be used for the inner layer of your sheer shades. Like the rest of Irvine Blinds & Shades' rigid blind options, our products can be made to slide up- down or left- right when opening. They can also be combined with cellular, Venetian style, and any other features to create the exact combination of traits you desire.
Motorized Or Hand Drawn
Since sheer shades work just like the type of blinds that they're built around, with minor adjustments, they have the same motorization options as our other blinds. Motorized window treatments are more convenient, reliable and safer for children, at the cost of some extra space.
Just A Call Away
Irvine Blinds & Shades is ready for your order. We guarantee to provide the best quality alongside more than satisfying installation service to ensure your ideal experience. Call us today and we'll get started!