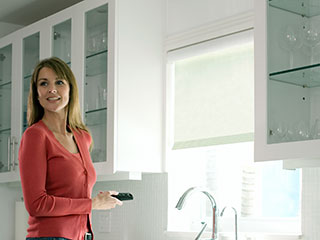 To better control how much sunlight streams indoors, automatic window covering solutions started becoming quite prevalent. Motorized blinds and window shades have grown in popularity significantly, and offer smart control options for both the home and business spaces. With custom made motorized blinds, your Irvine residential space or workplace can improve energy efficiency and save money on expenses by limiting electrical lighting and utilizing sunlight for indoor illumination.
Smart Blinds For Irvine Windows
With the latest Wi-Fi and Bluetooth network connectivity features, you can connect smart motorized blinds and shades with home or office network systems. This allows for a great variety of features, as well as better utilization of automatic shading solutions throughout the day. Motorized blinds can close or open during certain times that offer the most beneficial results. You can use smart blinds to better control the indoor climate and increase or decrease the presence of sunlight for less glare or more light.
Why Somfy Motorized Blinds
As the leading brand in automatic shading, Somfy provides reliable solutions that can work for all sorts of hard motorized window treatments. You can choose rolling shutters to cover big glass window walls, or vertical blinds with remote controls to give your office a better décor and energy efficiency. With Somfy blinds, you have all sorts of smart control options that make these motorized window treatments ideal for all types of purposes.
Lutron Shades Solutions
Optimizing your use of natural sunlight can be difficult without reliable remote control and automation features. Lutron motorized shades offer you the ideal sunlight diffusion methods with soft window covering solutions and drapery. Reduce the presence of harsh sunlight and glare but still enjoy soft natural light for indoor illumination. With Lutron controls, switches, and dimmers, you can utilize motorized shading solutions to create a wonderful aesthetic indoors as well as very functional operation methods.
Custom Motorized Patio Covers
For outdoor shading solutions with remote control, you've got a range of choices that can utilize Somfy and Lutron controls for optimal utility. Motorized pergola screens and canopies provide ample shade and in sheer or opaque materials. Add motorized patio covers or deck canopy options and you can adjust to the moving position of the sun in real time. For outdoor lounge spaces and shade structures, motorized awnings and patio shades provide the optimal choice.
Free Quotes on All Motorized Blinds and Shades
Let the experts near your area help with all questions and queries you have about motorized shading solutions for Irvine area houses, stores, offices, and more. With the experience of our local motorized blinds specialists, you can find the best combination of aesthetics and features to suit your budget and property needs. Schedule an appointment for a free consultation and start learning about Irvine's best custom made motorized blinds and shades!