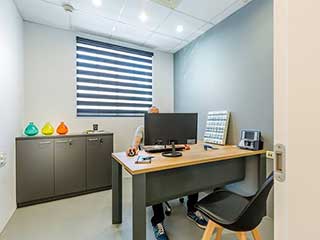 Businesses often have slightly different needs than residential buildings, especially when it comes to blinds and other window treatments. This is due to them having larger windows or having a need to attract and keep customers. Fortunately, you'll find us to be flexible enough to accommodate any sort of commercial establishment you may own.
Shades For Every Size and Shape
Businesses have all sorts of windows, from entire glass storefronts for shops and restaurants, to more typical homelike windows for offices. Some establishments even have decorative arched openings that boast a particular, ornate aesthetic. The blinds and shades you'll get from us are custom-designed, and can be made to fit windows of all descriptions and dimensions. Rest assured that the installation process will be completed quickly, and handled by professionals who can accommodate your needs perfectly. And that's not even where the versatility ends.
Styles and Automatic Controls
Cellular, roller, and pleated shades, as well as blinds build in slat or panel formation, are all available. Each style of window treatment can come in a variety of colors and patterns, and some can be made from bamboo or wood as well as the more common fabric and synthetic options, like faux-wood blinds, for example. Most types can also be installed with either a hand-drawn string, or a motorized opener controlled via remote control or built-in computer. The choice is up to you, and Irvine Blinds & Shades is happy to provide advice that will help you choose.
The Benefits Of High Quality Coverings
Most of the advantages of high-quality blinds and shades in a home are multiplied in the workplace. A comfortable atmosphere that can be adjusted as needed to prevent claustrophobia and darkness or distractingly harsh sunlight is essential to keep customers coming back. Similarly, being able to block or absorb sunlight and prevent it from flooding a room lets you manipulate the temperature while spending less on electricity bills. Finally, some obscuring blinds will shut out view of a storefront from the street when it isn't open, making it less likely for thieves to be attracted.
Perfect Shades For Your Office
Irvine Blinds & Shades is the window treatment dealer closest to you, and will provide a free consultation at your place of business to help you decide which new coverings match your needs perfectly. From the ease and convenience of motorized roller shades to hand-drawn vinyl blinds that require very little maintenance. Adding new shading to your windows is an excellent way to improve employee productivity, improve décor and contribute to the atmosphere.