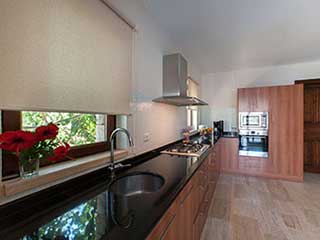 Roller shades are vertically opening screens that are extended and retracted from a spool or "roller" mounted across the top of the window frame. Most roller shades are held in place by the inside of the frame itself, which helps in keeping them straight and preventing wrinkles and catching.
When To Choose Rollers
Rollers are ideal for bedrooms, offices, dining rooms, and any area that calls for elegance, privacy, and conservation of space. Additionally, these treatments are a good fit for tall, thin windows that other styles of coverings might have trouble fitting. They are also ideal for the windows that are set higher on the wall, case in which their coverings might be just too hard to adjust without a drawcord. Roller shades also work very well paired with curtains, so you can adjust sunlight, airiness, and privacy at will.
Colors And Designs
One of the most commonly repeated selling points of the roller shades is that they don't call too much attention to themselves. This is true if you select a simple, sheer fabric in a drab color. However, rollers aren't limited to just utilitarian spaces; more colorful, decorated, and ornately made products are always available, and they can complement and spice up any room. Roller shades with bright patterns or designs, or the ones made from bamboo or other eye-catching materials, can combine simple functionality and convenience with aesthetic beauty.
Installation And Accessories
Our roller shades can be delivered and dropped off at your address, or installed professionally by our expert team during a scheduled appointment. Aside from installation and consultation services, we can also set you up with a motorized control system – including remote or smart controls – in place of a drawcord. This further increasing convenience and eliminates a possible choking or strangulation hazard for young children or pets.
Order Your Set Today
Give us a call - tell us what size your windows are and what colors or other features you want for your roller shades. You will have your newly purchased item in place before you know it. Get your shades now!