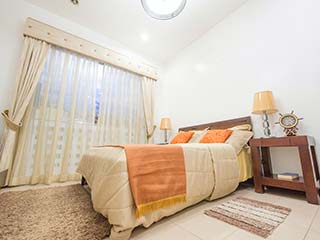 One of the most protective window treatments out there, motorized blackout window curtains combine the inviting atmosphere and ventilation of fabric with the protectiveness of shutters. There's a ton of variety under the blackout window curtain umbrella, in terms of both style and functionality. Blackout draperies that hang past floor level are a compliment to living and bedrooms. Short curtains with blackout properties protect the privacy of bathrooms and parlors. With motorized blackout curtains, you can sit back and let technology optimize your indoor climate and lighting. As the local experts on Somfy motorized curtains and shading solutions near Irvine, we offer customers a wide variety of options to pick from. Find the best motorized drapery options for your business or residence and enjoy décor with advanced technology.
What Blackout Window Curtains Do For Your Irvine Property
So, how exactly do blackout curtains work, and what makes them better than the other window treatment options? To answer the simpler question first, blackout window curtains are fitted to completely cover their window and have an acrylic layer under the fabric. Sunlight that manages to penetrate the fabric layer is reflected off the acrylic, and then absorbed again as it bounces back through the fabric. The effect of this is that the curtain blocks every last trace of sunlight without creating a painful glare for people outside. Manual, as well as motorized blackout window curtains, are as flexible and airy as any other curtains, but block sunlight like a wood and plaster wall. When drawn shut, a set of blackout window curtains protects your sleep, your furniture, and your privacy.
Curtains, Draperies, & Embellishments
The stylistic variety for blackout window curtains is vast. If sliding curtains aren't right for you, how about blackout draperies? For tall windows and glass doors, a pair of trailing blackout drapes are well-sized, and also just a lovely piece of indoor decoration. You can make your blackout draperies or curtains stand out better by picking a color that fits your décor. Don't let the name fool you! Blackout curtains don't need to be dark or drab looking. You've got lots of design options. White blackout curtains are in demand, and cream, orange, and tan ones are also popular. Blackout draperies and curtains with valences, tassels, and ribbons take the decorative value even further. You can also try installing your blackout window curtains over some short semi-transparent drapes or shades. This way, you have light control options even with the curtains open.
Motorized Blackout Curtains With Smart Controls
Just like adding motor systems to other hanging window treatments, motorized blackout curtains can offer you a technologically advanced solution to different rooms. Battery-powered curtains are easier to adjust and also more reliable thanks to timers and smart Somfy controls. Your sleep will never suffer from the early dawn if your blackout window curtains know to close themselves before sunrise. You also won't have to worry about sun-bleached furniture or prying eyes during the midday, even if you aren't there or don't remember to draw them. We also install Wi-Fi motorized curtain controls with smartphone connectivity, sunlight and heat sensors, and smart house systems integration. You can get new motorized curtains for any Irvine area property made-to-size and installed by top professionals.
Blackout Curtains Custom Made – Free Quotes
All of our custom window curtains and drapes are made-to-measure to the client's request. Find the look you want and choose the smart Somfy motorized curtain controls that suit you best. Then we do the rest! Talk to an expert and get a free estimate on any blackout curtains and draperies you like for any nearby Irvine residential or commercial property. Book an appointment for a free consultation to learn more.