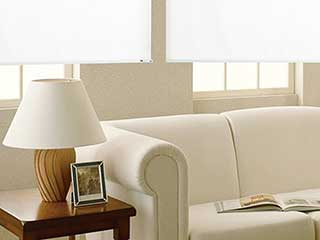 A major source of discomfort for people is bright, unwanted sunlight. When you can't protect yourself from sunshine it can be very frustrating, leading to eye strain and headaches. We help you get protection from the glaring sun with our custom blackout blinds. Irvine Blinds & Shades offers many different varieties of window coverings and treatments. You can easily find door or window blinds that work well in any room. Improve your home or your business by choosing the ideal set of treatments for each room. We'll handle all the hard work, leaving you to enjoy your amazing low-cost blackout blinds. Call us now to set up a free consultation in-person, anywhere near the Irvine area.
Cheap Blackout Blinds For Your Irvine Property
Spend less on comfort when you choose the best blackout blinds around. Thanks to our amazing custom blind-making process, we can offer you amazing quality at a discount price. That makes our products the go-to option for home and business owners all across the Irvine area. Because we can provide anything from blackout blinds for office windows to totally custom living room blinds, we're always able to offer a great solution. Our design process is simple, but it still gives you absolute control over the end product. Choose from sumptuous materials and a whole rainbow of different colors in order to find the perfect match.
New Collection Of Blackout Window Coverings
We understand that every home is completely different. Your unique style means that you need control over natural light throughout your property. That's what we can offer, thanks to our flexible construction process. Blackout blinds for bedroom windows are a common requirement, and we specialize in providing the perfect coverings for these windows. You can feel totally safe in the knowledge that no light will enter or leave your bedroom, even when the lights are on at night. This is perfect if your windows look out onto a busy street. We recommend scheduling a consultation at your Irvine home, where our representatives will help you identify which blinds will be best for your needs.
Local Window Treatment Experts
Our expertise stretches to all the various designs you could possibly need for your property. For example, blackout blinds on French doors or other large sliding glass surfaces. These are designed to offer total protection without impeding the door's usefulness. We even offer a selection of customizable blackout blinds for skylights. This lets you easily control sunlight from overhead, guaranteeing the right level of natural light whenever you need it. Speak to our Irvine-based representatives now to find out how low our prices are.
Get a Free Quote On Blackout Window Blinds
The bottom line is that we offer great quality room darkening window coverings at an amazing price range. Even our selection of motorized blackout blinds won't break the bank, making it simple to add amazing technology to any home or workplace. Start your custom design process by calling Irvine Blinds & Shades today. Set up the free consultation appointment and see the huge range of options our blackout blinds collection holds.