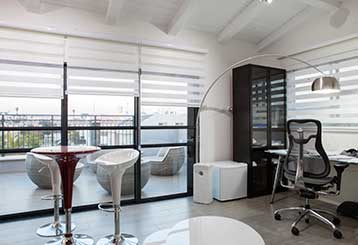 So you want to cover screen doors or some other large surface area in your home or office. Well, you can turn us to get the best custom sliding door blinds in Irvine. Our prices are extremely affordable. So whether you want motorized shutters or new custom vertical blinds, you won't have to pay top dollar for them. We specialize in providing a real personal touch, with in-person consultations available across the local area at no cost to you. Why not set up an appointment today, and see what improvements we could make to your home?
Low Cost Vertical Blinds
We pride ourselves on giving you access to the best window coverings around. When you want to control natural light entering your sliding door, blinds are the perfect solution. Our range of custom vertical blinds is highly versatile, giving you an exceptional selection to choose from. Decide on everything from color to materials and even the vane width of your new coverings. Our motorized vertical blinds are a great way to make your Irvine home even more comfortable and convenient, with cutting-edge control right at your fingertips.
Irvine Patio Door Blinds Experts
We appreciate how essential it is to keep your property comfortable and private. You need to make sure your patio door doesn't expose your home to unwanted glare and prying eyes, which is where our custom patio door blinds come in. Our range of different sliding door blinds gives you total control over your windows, so whether you want privacy or maximum sunlight you can easily get it.
Custom Curtains For Sliding Doors
When you want an alternative to sliding door blinds, our selection of curtains is a great option. You can pick any of a wide number of different patterns and materials for your custom curtains. We also offer a huge selection of materials in different thicknesses. Choose blackout curtains to get total privacy and block out sunlight. Alternatively, you might settle on sheer materials for a much gentler light control option.
Rolling Shutters Specialists in Irvine
Pick custom rolling shutters for the ultimate in window protection. These high-quality window coverings give you amazing control over natural light, while also providing total privacy and preventing damage to your windows. Our selection of rolling shutters gives you every option you could want. This includes premium materials such as real or faux wood, and even motorized rolling shutters. If you're close to the Irvine area, you can call us to set up an obligation-free consultation to find out more.
Cheap Blinds For French Doors
If your home features French doors, then you need our high-quality window coverings to make sure you keep comfortable. Don't let prying eyes look into your homes, or deal with glaring sunlight. Simply pick out the ideal combination of different materials and designs from our wide range of options. Our representatives are based near you, and service all of Irvine and nearby locations. It's easy to find out more. Just give us a call and arrange your free in-home consultation, and we'll show you what sort of French door blinds you can choose and customize.
Custom Sliding Door Blinds & More
Whether you're interested in rolling shutters, some beautiful blackout curtains, or vertical blinds, we can make any shading product of your choice at low & affordable costs. Anyone near Irvine can contact us for a full in-person consultation + quote (for free) on any type of sliding door covers they want. Call anytime to schedule an appointment.