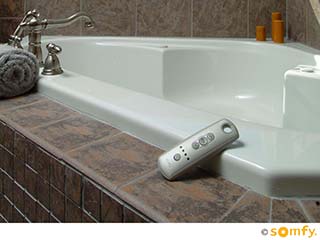 Managing better natural light use is one of the many benefits of going with motorized blinds and shades. The innovation of smart window treatments allows for a lot of convenience and energy efficiency while demonstrating optimal temperature and brightness control. Somfy blinds have plenty of choices to offer your Irvine home or business, with wireless window treatments utilizing Wi-Fi, power batteries, and more. Use expert consultation (at no cost) to find the best combination of features and get Somfy motorized blinds custom made and installed in any property nearby.
Smart Window Blinds
With the advancement of technology, remote control blinds and shades are beginning to become prevalent and ubiquitous in all sorts of residential and commercial spaces. The smart Somfy blinds controls are very popular for their efficiency and reliability. Therefore, you can find Somfy blinds utilized for all sorts of purposes and in all sorts of rooms. Remote control blinds give you a great selection of wireless control, from smartphone connectivity to voice commands. Smart Somfy blinds, motorized with silent running operators, add a lot of utility and also décor but take up minimal space. With great energy efficiency, you can even reduce overall costs after a while thanks to these smart window blinds.
Motorized Outdoor Shading Solutions
Besides windows and glass walls, Somfy controls work for all sorts of outdoor coverings like motorized pergola canopies and awnings. With the easy connectivity of Somfy products, motorized patio covers can offer wonderfully efficient use of this technology. Pergola screens can add more shade on the sides, and so can motorized deck canopies and overhead patio shades. With Somfy, you can optimize your outdoor lounge experience of your Irvine property to protect from harsh sunlight at all times.
Motorized Rolling Shutters and Drapery
The beauty about Somfy controls is the versatility of covering solutions they can work with. Need to add better sunlight protection for bedrooms? Motorized blackout curtains can work fantastically same as blackout blinds, giving the area complete privacy and total darkness at night to allow for optimal sleep. Rolling shutters for your window walls will ensure maximum coverage and better security too. Somfy shading solutions offer Irvine area customers the best of all worlds, both in aesthetic and in utility. Motorized drapery and window shutters give you wonderful decorative choices, in custom sizes and designs to match all sorts of interior décors.
Irvine Somfy Blinds Installers – Free Quotes
Let our professionals help you make sense of all the options and choose the blinds, shades, shutters, or other motorized shading solutions that provide everything you need. With custom-made window treatments and outdoor patio covers, you can maximize aesthetic looks and enjoy enhanced remote control functionality. So book a free estimate with top Somfy blinds installers in the Irvine area today and see what beautiful solutions we have to offer!