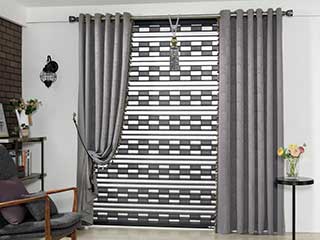 When you need to add a little privacy and comfort to a room, curtains and drapes are an excellent way to do it. These soft furnishings are perfect for fitting seamlessly into any style of design in your property and have a whole range of benefits. Firstly, curtains and drapes help to keep warmth in and sound out, making them ideal for rooms like the bedroom. They're also a very good choice for when you want some privacy since heavier materials can prevent all light carrying through them. Finally, with an amazing range of different materials on offer, you'll be sure to find the perfect new soft window coverings for your property.
Blackout Curtains In White and Other Shades
Yep, it's very possible for you to get a set of blackout curtains in white. While that may seem hard, it's definitely an option. The opacity of a certain material usually means its color and shade will reflect that. But with special techniques and fabrics, it's possible for white to be applied for blackout curtains. There are all sorts of other colors and shades you can choose for your new room darkening curtains and drapes, of course. But know that everything is on the table, even the opposite of dark.
Bedroom Curtains and Office Draperies
The type of fabric window treatment you choose for a certain room depends on the room itself. Apart from the decor enhancement, which is a major consideration, you also need to think about what you want to get out of the new drapes or curtains. Bedroom curtains made of blackout fabrics are often the popular choice. You want to keep sunlight at bay, as well as have as much privacy as possible. For office windows, sheer drapes are often chosen. This is because they can reduce glare while also filtering sunlight and letting it brighten up the room. For meeting rooms and other commercial businesses that require more privacy, blackout curtains and others are often the preferred choices.
Curtains Vs Drapes
Most people don't realize the difference between curtains and drapes, but it all comes down to the weight of material used. Drapes are much heavier and are often lined, making them much harder to see through. These are ideal in living rooms, dining rooms, and bedrooms, where you don't want anyone to see through the windows. Curtains are typically lighter and well-suited to kitchens and bathrooms. They're often decorative and allow some light to filter through, so can be used to cut out unwanted glare.
Motorized Curtains And Drapes
By fitting curtains with modern wireless motor systems, you can access amazing convenience. Modern technology allows you to control these fittings directly from your smartphone or from a central controller, making it incredibly easy to adjust their position at any time. Not only can you keep light at the right level throughout the day, but you can also deter burglars. Simply tell your motorized curtains to open and close as if you were at home. This gives the appearance of an occupied home, helping to keep burglars away.
Custom Window Treatments For Any Irvine Home
If you're looking for cheap curtains it's still important to find good quality. No matter how little you spend, a bargain isn't a bargain if it breaks quickly. Shop with confidence when you browse this range. This ensures you'll get great use out of your motorized drapes or other new window treatment. To find out how you can benefit, simply get in touch with Irvine Blinds & Shades today. Get a free quote on a set of custom made window treatments, whether it's curtains, drapes, or blinds.