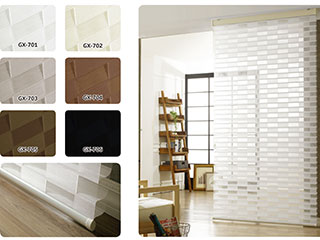 The colors of your home significantly dictate its indoor ambiance. If you're going for a fresh, summer look, you're going to have to use lighter colors for your walls, furniture and decors. These colors include beige, lighter shades of blue and green and even white. If you're going for a more toned down feel for your home, then you should go with darker window shades. Everything should match the color palette you plan on going with. This includes the blinds you're going to put up. Windows will always occupy a very significant portion of your rooms' walls, hence, shades always play a crucial role in your home's overall look.
Earth Tones For Window Shutters
Using the palette of earth tones will create a living space that will feel very cozy and natural. It doesn't matter if you're going to decorate your living room, kitchen or bedroom. With these very natural looking colors, every room in your home will be very inviting. If you do decide to go with earth tones, you can play around with the colors of your window shutters. You can go with the classic browns and grays for your shades, or you can go with greens. Just make sure not to choose too bright colors and you'll be fine. Also, remember that you can go either way with contrasts. For example, you can have roman shades that are dark brown and you can have walls that are in the beige to white or even green to blue range. You don't have to stick with brown just because you chose brown to cover your windows. This advice goes the same for the rest of the color palettes that are going to be mentioned.
That Chill Ocean Vibe
Another very popular color palette is "beach". If you're going for a beach look, your color palette is probably going to be very similar with someone who may be going for a general"summer" vibe. Both palettes involve evoking feelings of happiness and adventure. These colors include whites for clouds, sky blues for the sky, light greens to medium greens for the leaves and grass, and yellows for the sun. Play around with the look of your room or living space by playing around with the color of your window coverings. Remember, your shades are going to take up a big part of your room. You should try and experiment with their look in relation to your desired overall decor.
Autumn and Sunset Shades
Autumn and sunset palettes are also very popular choices for room and blind and shade colors. This palette evokes a strong emotion of warmth, romance, and even nostalgia. These colors include shades of red, orange and yellow. You can also throw in a few browns and greens into the mix for added contrast to your walls, decor, and blinds. The sheer variety that's possible to achieve is so extensive, you can get lost trying to decide. Irvine Blinds & Shades is happy to send someone over for a free consultation if you're contemplating which coverings will go best with the room and its windows.