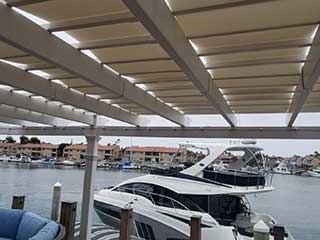 Turn your courtyard, patio or gazebo into a much more comfortable space with our custom patio shades. Our amazing selection of different options lets you pick the perfect shades for your home. Find designs that perfectly suit your tastes, and get the best service in the Irvine area. Our custom patio shades will fit any size of outdoor space. Whether you're to keep the rain out with waterproof outdoor shades or to get some shade from the sun with overhead patio shades, we can help you. Get a free quote and no-obligation consultation today.
Low-Cost Motorized Exterior Shades
Motorized shades are the most convenient option around. We supply custom motorized patio shades for gazebos, courtyards and other outdoor spaces in the Irvine area. What could be more convenient than simply pressing a button to open or close your shades? No more tedious adjustment of shades on different sides of the patio. Simply flick a switch, and the shades will take care of it for you. Our low-cost motorized shades are perfect for a wide variety of homes. Why not contact our team today to see how little it could cost you?
Custom Sun Shades For Outdoors in Irvine
We offer our services to all nearby areas. That means that if you're anywhere close to us, we're happy to provide a free estimate on custom made patio shades. That includes waterproof and motorized patio covers that block sunlight to the best degree. Our custom outdoor sun shades can have opaque or sheer waterproof fabric that makes them useful for all times of the year.
Outdoor Patio Shades Offer Better Cover
If you can't keep the sun off you, it's tough to enjoy your patio to the fullest. That's why our range of custom overhead patio shades offer such a great investment for your property. With these exterior shades installed you can easily adjust sunlight to a comfortable level. That means you can avoid sunburn and no reprieve from the heat, which are common complaints in Irvine and all nearby areas. Our selection of custom outdoor patio shades offers all the choice you could want. They stand suitable for any style of courtyard, patio or gazebo.
High-Quality Waterproof Outdoor Shades
Make the most of your patio by choosing from our selection of waterproof outdoor shades. These keep out rain showers as well as preventing sunlight and insects from entering your patio. This can be the perfect way to guarantee comfort. You wouldn't want to schedule an evening's entertainment on a sunny day, only to have it spoiled by a sudden downpour. This can soak your guests, as well as ruining your patio furniture. Install our range of custom waterproof shades to get total protection from both rain and shine.
Irvine Patio Shade Makers – Schedule a Free Consultation
So, if you're looking to improve your patio, the best thing you can do is invest in custom outdoor shades. Choose from our impressive range of motorized, waterproof and custom patio shades. We make them in many different styles and designs to suit every Irvine home. Schedule your free in-person consultation today.