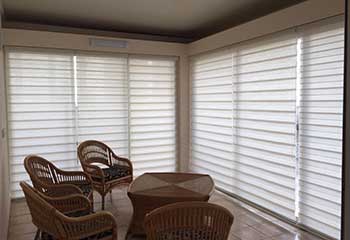 Cellular Shades
Customer Issue: Mrs. Singleton was making an effort to better conserve energy spending for her home, and found through research that the type of window coverings one has can make a huge difference. She wanted to upgrade to something that was more insulating.
Our Solution: Our team suggested cellular shades for Mrs. Singleton, as their dense honeycomb composition makes them the best at insulating compared to all other types. This would help to better keep heat in during the winter, and out during the summer. She happily agreed that this style would perfectly suit her needs.
Marjorie Singleton
- Irvine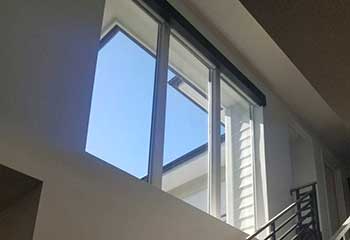 Roller Shades
Customer Issue: In his home renovations, Mr. Ukobosi added a window to his expanded upper floor and needed a covering for it. Roller shades fit his budget the best.
Our Solution: The new window was a large, but standard, six by eight-foot frame with six inches of depth. Setting up the roller, electric opener, and wiring was easy since Mr. Ukobosi had made the new expansion's power lines easy to access. The customer wanted something simple and unassuming, so pale creamy gray nylon it was!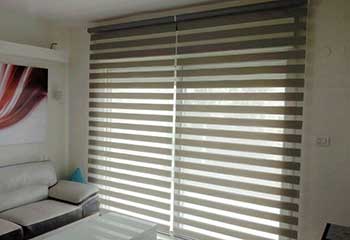 Vinyl Blinds
Customer Issue: Mr. Norris' hoped that our experts could help him find new window coverings for his living room. He wanted something low maintenance.
Our Solution: Mr. Norris decided that vinyl blinds were what he had been hoping for. The vinyl makes them easy to clean with just a damp cloth to avoid dust building up, and to survive children with sticky fingers. They also easily fit in his budget, which made them the perfect thing for his needs. He picked out a light gray shade to quietly complement his living room.
Edmund Norris
- Northwood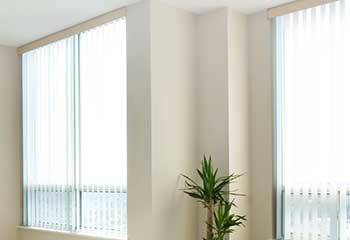 Blinds for Sliding Glass Door
Customer Issue: The customer needed new blinds for his sliding glass door after his dog chewed on his old ones and made them look shabby.
Our Solution: Thanks to giving a taller impression to the room, our team suggested new vertical blinds for Mr. Sutton's sliding glass doors that led out to his backyard. It would not only make the area feel larger but increase his privacy. He agreed, and measurements were taken to custom fit the blinds to the door before installation.
Perry Sutton
- Lake Forest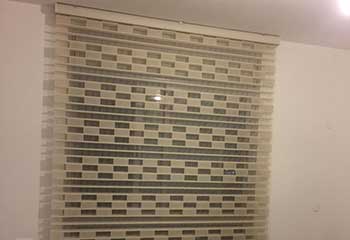 Sheer Shades
Customer Issue: The windows in a designer apartment needed contemporary style custom made sheer shades that slightly filter the sun.
Our Solution: Our team recommended sheer blinds made of horizontal fabric alternating with light-filtering sheer that diffuses the light without blocking it completely. The slats can be tilted for better control, and the entire shade can be lifted using a cordless motorized control.
Larry Bridges
- Costa Mesa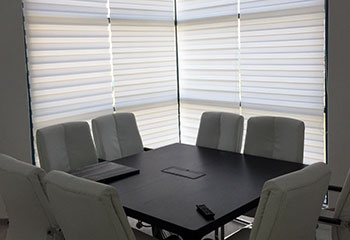 Roman Shades
Customer Issue: Mr. Acheson wanted something more pleasing to the eye for his new law office than the Venetian blinds he got with it.
Our Solution: A brief consultation was all it took for the customer to decide that some black jute Roman style pleated shades were the best look for his office. Some power tool work and two brand new custom-made Roman shades later, and the windows were a perfect match for the new décor.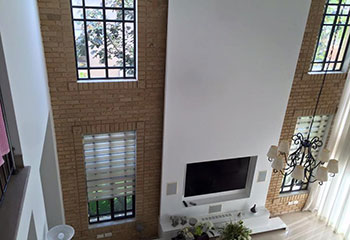 Motorized Cellular Shades
Customer Issue: The customer wanted new motorized shades installed as part of revamping three of his housing units for higher end tenants.
Our Solution: Eight sheets of cellular shades had to be fitted for the customer's numerous windows. Installation was simple in most cases, but two windows required extra extension cords to reach their motors to the nearest outlet. After connecting and testing all three remote controls, the job was done.
Zachary Brann
- Northwood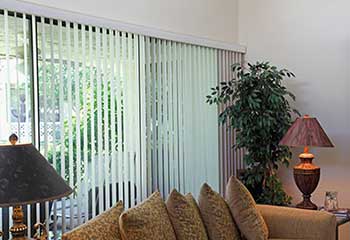 Vertical Blinds
Customer Issue: Ms. Villeneuve had a new balcony added to her house, and wanted some obscuring shades added to the new glass sliding door.
Our Solution: The customer already knew exactly what she wanted, so after getting the measurements of the door our team brought over the S-slat white polyester vertical blind strips and the track to hang them from. Installation and attachment went smoothly, and the balcony door looks great now.
Victoria Villeneuve
- Irvine